9 Russian fighter jets destroyed in air base blast, one killed and 14 injured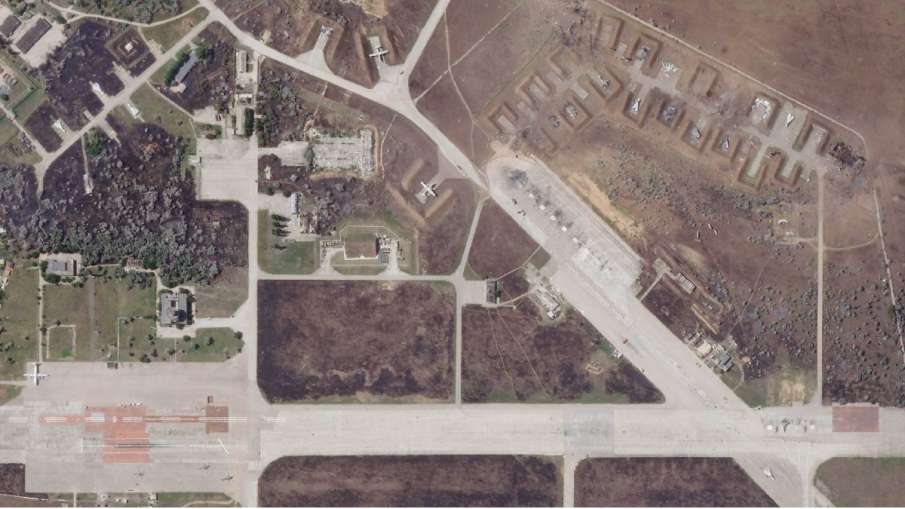 Highlights
At least 7 fighter planes caught fire
One person killed in blast
Videos of tourists running in panic due to the rise of smoke surfaced
Russia Ukraine War: Nine Russian fighter jets were destroyed in a series of powerful explosions at a Russian Air Force base in Crimea. This attack appears to have been carried out by Ukraine and it is expected to take a more severe form of the ongoing war between the two countries. Russia denied any fighter jets were damaged in Tuesday's blasts and even denied reports of any attack.
7 fighter planes caught fire
At the same time, at least 7 fighter planes are seen on fire at an Air Force base and others are seen damaged. Ukrainian authorities have not yet publicly claimed responsibility for the blasts, while questioning Russia's negligence of fire protection rules for fires and explosions at Saki Air Base and prohibition of smoking in undisclosed locations. have picked up.
use of anti-ship missiles
Analysts also say that this explanation makes no sense and that Ukraine may have used anti-ship missiles to launch the attack. Russia launched its military offensive in Ukraine in February this year, and if it is indeed an attack by Ukraine, it will be its first major attack on a Russian military base on the Crimean peninsula.
One person killed in blast
From Saki itself, Russian fighter planes targeted the southern areas of Ukraine. One person was killed while 14 others were injured in the blasts here on Tuesday. Videos of tourists running in panic due to the rise of smoke have surfaced. The video also shows cracks and broken windows in some buildings.
Crimea's regional leader, Sergei Aksyonov, said some 250 people had been accommodated in temporary housing after several buildings were damaged.
Earlier, Ukrainian President Volodymyr Zelensky's adviser, Oleksey Erastovich, mysteriously told an online media conference that the blasts were either caused by Ukraine's long-range weapons or the work of extremists operating in Crimea.

Latest World News