'Ask India', the Chinese ambassador's evasive reply to the spy ship anchored in Sri Lanka
Colombo: A Chinese high-tech 'spy' ship anchored at Sri Lanka's Hambantota Port on Tuesday. While India has expressed security concerns about this ship, China is showing it as if it does not pay much attention to this matter. China's ambassador to Sri Lanka, Qi Zhenhong, said on Tuesday that such visits keep happening. He also avoided questions related to India's concerns saying that these questions should be asked to 'Indian friends'.
The ship will remain in Sri Lanka till August 22
Let us tell that the ship 'Yuan Wang 5' capable of detecting ballistic missiles and satellites reached the southern port of Hambantota at 8:20 am local time. It will stay there till August 22. The ship was to reach the port on August 11 as per schedule, but was delayed as permission was denied by the Sri Lankan authorities. Amidst India's concerns, Sri Lanka had asked China to postpone its visit. On Saturday, Colombo allowed the ship to come to port from 16 to 22 August.
'Such a ship also came here in 2014'
Sri Lanka said the Defense Ministry has allowed the ship to stop for refueling and other work during the stipulated period. Chinese Ambassador to Sri Lanka Qi Zhenhong was present at the port to welcome the ship. Several MPs from the disbanded group of the ruling Sri Lanka Podujana Peramuna Party were also present. When asked about the trip, he said, "It is very natural for a research ship like this to travel to Sri Lanka. A similar ship had come here in 2014 also.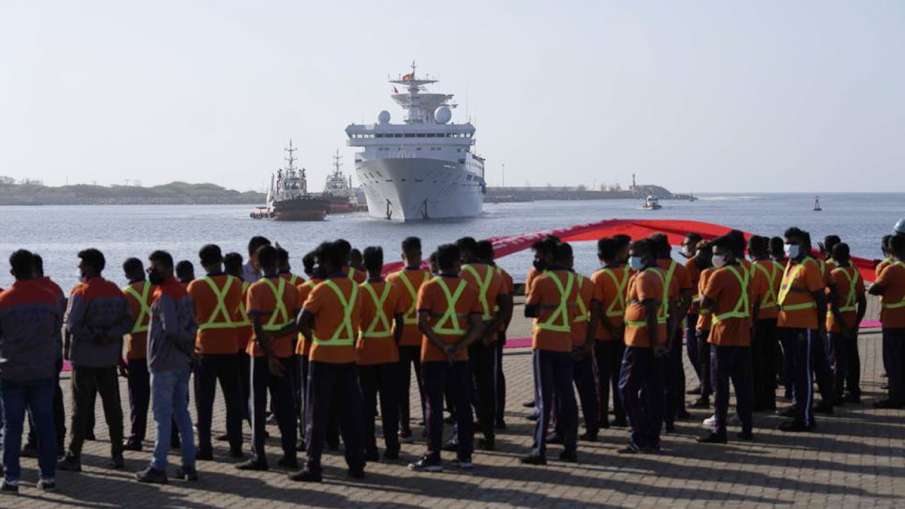 Chinese spy ship arriving at Hambantota port.
'You should ask India about this'
Asked about Indian concerns, the envoy said, "I don't know, you should ask Indian friends." According to reports, the security of the ship was very strict and no one was allowed to board it. Sri Lanka's decision to postpone the yatra generated much controversy in the country as the yatra was approved in mid-July. On the ship's arrival, Cabinet spokesperson Bandula Gunawardhan said that the issue has been resolved amicably. "It is important for us to have relations with all countries," Gunavardhan said.
https://twitter.com/rohanperera73/status/1559428307875418113
There was tension in the relations between India and Sri Lanka.
The Foreign Ministry said in a statement in Colombo that security and cooperation in the neighborhood is the top priority in dealing with the issue of the Chinese vessel Wang Yang 5. India has traditionally taken a tough stand on Chinese military ships in the Indian Ocean and has protested to Sri Lanka over such visits in the past. Relations between India and Sri Lanka were strained in 2014 after Colombo allowed a Chinese nuclear-powered submarine to stop in one of its ports.
Latest World News