CWG 2022: Achinta Sheuli wins third gold for India, weightlifters won all six medals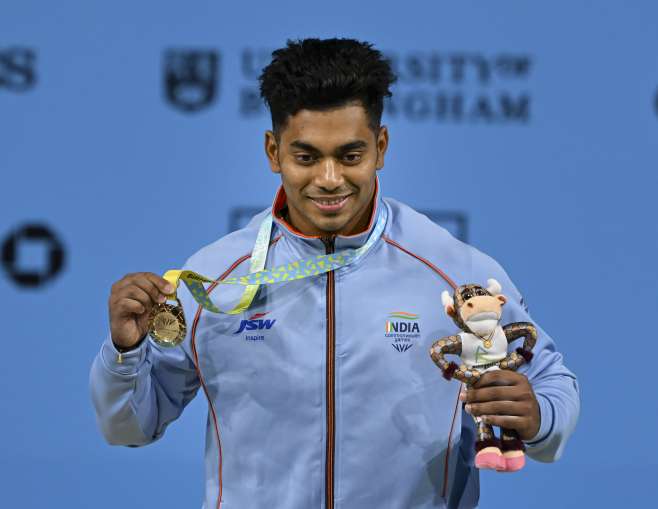 Highlights
Achinta lifted the total weight of 313 in 73 kg weight category
Created a Games record by lifting a weight of 143 kg in the snatch round
Lifted 170 kg in clean and jer
CWG 2022: India's young weightlifter Achinta Sheuly has won the gold medal in the Commonwealth Games. The 20-year-old Achinta, who is participating in the Commonwealth Games for the first time, won the country's third yellow medal by hitting a new record in the men's 73kg category late on Sunday night. Sheuli, who hails from West Bengal, lifted the Commonwealth Games record by lifting a total of 313 kg. He lifted 143 kg in snatch which is a new Commonwealth Games record. He then lifted 170 kg in clean and jerk.
Sheuly, who won a silver medal at the Junior World Weightlifting Championships last year, did both the best lifts in the third attempt. Malaysia's E Hidayat Mohamed got the silver and Canada's Shad Darsigny got the bronze who lifted 303 and 298 kg respectively.
How was Achinta's performance:
Achinta lifted a weight of 137 kg in the first attempt in the snatch round. After this, he set the record by lifting more weight in the next two attempts. He successfully lifted 140 kg in the second attempt and 140 kg in the third attempt and made a new Games record.
Snatch Round:
1st attempt – 137 kg
2nd attempt – 140 kg
Third attempt – 143 kg
Achinta also started well in the clean and jerk round. He lifted the highest weight of 166 kg in his first attempt. However, in the second attempt, he failed to lift 170 kg. But he did not give up and took the gold in the third and final attempt by lifting the weight of 170 kg leaving the other players far behind.
Clean and Jerk:
1st attempt – 166 kg
Second attempt – failed to lift 170 kg
3rd attempt – 170 kg
Sheuly said after the victory that I am very happy… I won this medal after overcoming many struggles. I will dedicate this medal to my brother and all the coaches. After that I will prepare for the Olympics.
Let us tell you that before Sheuli, earlier Tokyo Olympic silver medalists Mirabai Chanu and Jeremy Lalrinnunga had given India two gold in weightlifting. While Sanket and Bindiyarani Devi won silver in their respective categories, Gururaja Pujari won the bronze medal.