Everton signs Belgium international Amadou Onana from Lille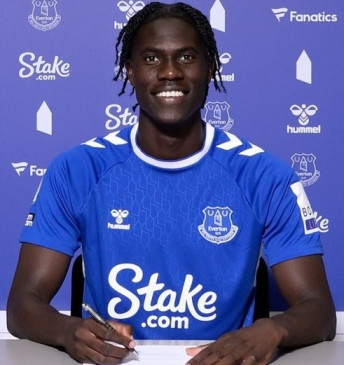 Digital Desk, London. Belgium international Amadou Onana has signed with Everton from Lille, agreeing to a five-year contract until the end of June 2027. The club gave information about this on Tuesday. The 20-year-old central midfielder is widely regarded as one of Europe's most exciting talents. He is the fifth new player for Everton after the arrival of defenders James Tarkowski and Ruben Vinagre, forward Dwight McNeil and centre-back Conor Cody.
The midfielder, considered one of Europe's most exciting talents, was set to join West Ham until Everton accepted his offer last week.
Powerful, quick, technically proficient and with the ability to be used in a range of central midfield roles, Onana revealed the opportunity to play for manager Frank Lampard is the better player for Everton to come. Onana told Evertonv, "It feels great to be associated with Everton. I know this is one of the biggest clubs in England.
"It's something I've wanted to be a part of for many years," he said. Everyone here showed that they really wanted me and they had a plan for me, so I really appreciated the conversation I had with the manager and director of football, Kevin Thelwell.
Club manager Frank Lampard said: "Onana is a great player that we were really looking forward to bringing to Everton. He has a lot of qualities to help strengthen our midfield and has the potential to get even better at just 20 years old.
Source: IANS
Disclaimer: This is a news published directly from IANS News Feed. With this, the team of bhaskarhindi.com has not done any editing of any kind. In such a situation, any responsibility regarding the related news will be of the news agency itself.