IND vs WI: Rishabh Pant was having fun in the middle match, Rohit Sharma was furious, VIDEO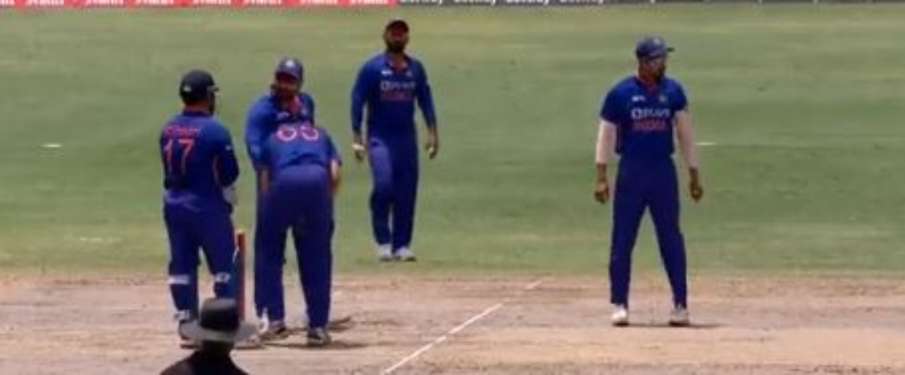 Highlights
Indian captain was stunned by Rishabh Pant's action
Rishabh Pant took a slight delay in running out Nicholas Pooran
Rishabh Pant and Rohit Sharma's video is going viral on social media
In the fourth T20 match of India vs West Indies, Rishabh Pant did something, on which captain Rohit Sharma lost his cool and got angry on Rishabhant Pant in the middle of the field. During the third T20, Rishabh Pant's joke seemed to be on him, when Pant started joking while running out West Indies captain Nicholas Pooran and despite the ball being in hand, he did not drop the bails, as it happened on one side. The rest of the West Indies players were kneeling in front of the Indian bowlers, while Nicholas Pooran, Axar Patel scored 22 runs in an over with the help of four fours and he ran for a single off the last ball, but Kyme along with him. Meyers refused to take the run. Sanju Samson, standing at mid-off, did an excellent fielding and soon returned Rishabh Pant's hair, but Pant is Pant, he took the ball in his hand and waited for Nicholas Pooran to return to the crease and he was in a hurry to drop the bails. Did not look at all, although in the end, Rishabh Pant ran out Nicholas Pooran. Rohit Sharma was not at all happy with this action of Rishabh Pant and he started getting angry on Pant on the field itself.
Such was the condition of the match
Let us tell you that India won this match by 59 runs. India set a target of 192 runs in front of West Indies, in which captain Rohit Sharma scored 33 runs in 16 balls with the help of 3 sixes and two fours, giving India a strong start, while Rishabh Pant scored 44 runs for India. During his innings, Pant faced 31 balls and also hit 6 fours, Sanju Samson scored 30 not out in 23 balls, in the last Axar Patel scored 20 runs in 8 balls, due to which India reached 192 . Chasing the target, the West Indies never appeared in the match, West Indies lost their 4 wickets inside the powerplay, although captain Nicholas Pooran tried to put some effort, it was not enough and India won the match in the series. Ajay took the lead 3-1.
Obed McCoy went from hero to zero in one match
West Indies fast bowler Obed McCoy, who took 6 for 17 in the second T20, in this match, Obed McCoy gave 66 runs in 4 overs in the fourth match and could take only two wickets. Within two matches, Obed McCoy also performed the best for West Indies and the worst performance is also now in the name of Obed McCoy.
Latest Cricket News