Indian hockey team won 9 medals in Olympics in 75 years, 5 gold medals after independence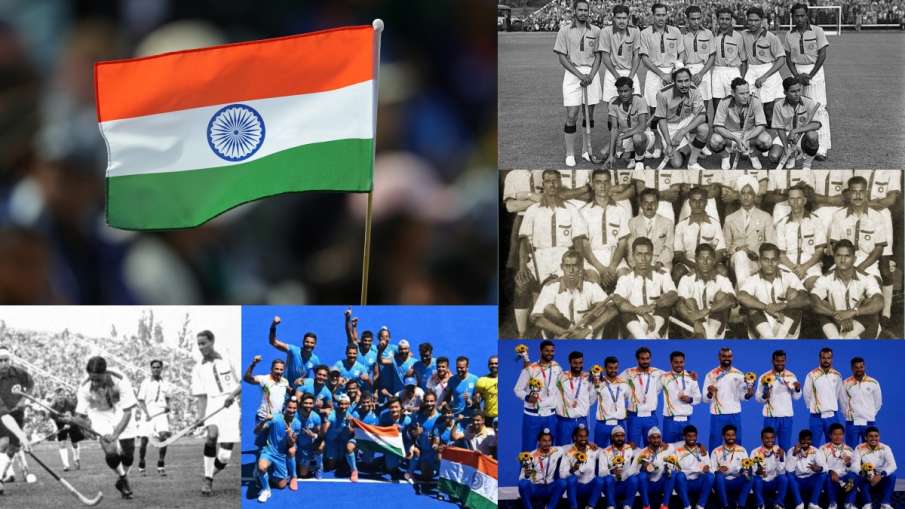 Highlights
Indian hockey team won 12 Olympic medals
After independence, a total of 9 medals were registered in the name of the Indian men's hockey team.
Indian hockey team won 8 gold medals in Olympic history
Azadi Ka Amrit Mahotsav: The whole country is painted in the color of freedom at this time. The country will complete 75 years of its independence on 15 August 2022. In this regard, the Amrit Mahotsav of Independence is being celebrated across the country. Meanwhile, the moments that made India proud in the last 75 years are also being remembered. There were many such moments in the world of sports too when proudly the Indian tricolor was seen rising towards the heights of the sky. One of them is the performance of the Indian men's hockey team in the Olympics.
If we talk about India's performance in the Olympic Games, then even before independence, India had a dominance in field hockey. In 1928, 1932 and 1936, India defeated all the teams of the world in the Olympics by winning three consecutive gold medals. While Major Dhyan Chand was in his golden period, the opposing team could not stand in front of many veterans including Balbir Singh Sr. Even before the country's independence, India had won three Olympic gold medals in hockey.
The flame remained intact even after independence
Due to the Second World War, the Olympics could not be held in the years 1940 and 1944. After a long wait of 12 years in Germany, the Indian hockey team once again captured the gold in 1948. This was India's first gold after independence. After this, India's performance continued in 1952 and 1956 and also captured the gold medal. After losing in the final to Pakistan in 1960, India made a comeback in 1964 to win the gold medal at the 1964 Tokyo Olympics. Then after playing 3 Olympics without gold medal, the wait for the Indian team ended in 1980 Moscow. This was the 8th and last gold medal in India's account.
When did the men's hockey team win medals?
1928- Gold
1932- Gold
1936- Gold
1948- Gold
1952- Gold
1956- Gold
1960- Silver
1964- Gold
1968 – Bronze
1972- Bronze
1980- Gold
2020/21- Bronze
The Indian hockey team has made the country proud many times in these 75 years of independence. The team is still the most successful team in a global competition like the Olympics. However, since 1980, the country had received only one medal in the form of bronze in the recent Tokyo Olympics. But due to the achievements made in history, India is still at the top. In the last few years, the image of hockey was getting tarnished but the way the country is shining on this nectar festival of independence. In the same way, the lost shine of Indian hockey has also been rekindled with the bronze medal of Tokyo Olympics.