Only 13 times in 84 years but 15 times in last 5 years only Indian pace battery did this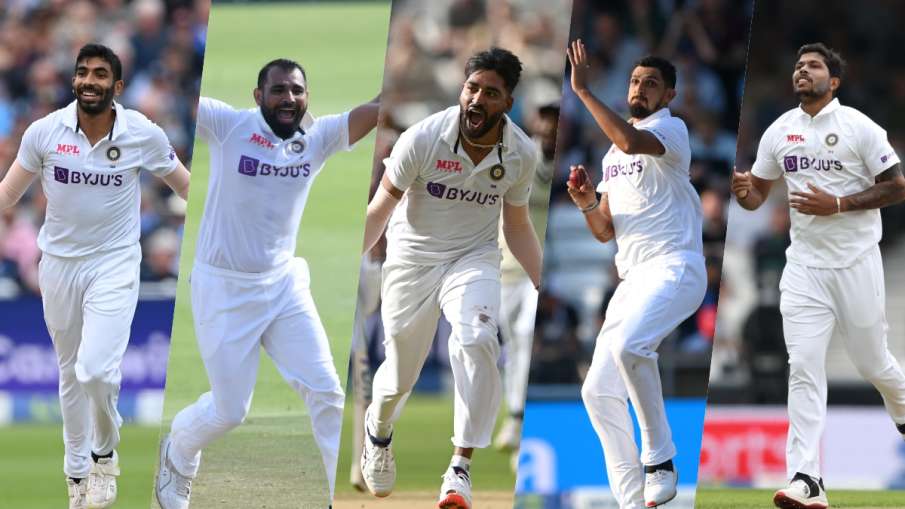 Highlights
Indian pace attack became extremely dangerous in last five years
Pacers dismissed the entire opposing team 13 times in 84 years and 15 times in 5 years
Indian fast bowlers also showed in Birmingham Test
Where the top order batsmen of the Indian cricket team have not been able to leave a special mark in Test cricket for some time now. At the same time, the Indian pace attack has been continuously troubling the opposing teams. If some miss the series within two or three years, then on many occasions including the historic 2020-21 Border Gavaskar Trophy, then the England Test series, Indian fast bowlers have stunned the opposition batsmen. Team India's fast bowlers were also seen in the fifth test match against England in Birmingham and all 10 wickets were taken by Paes Battery.
The standard of Indian fast bowling has improved in the last 5-6 years, especially in Test cricket. Currently, Jasprit Bumrah, Mohammed Shami, Mohammad Siraj and Shardul Thakur are part of the red ball team. But Umesh Yadav, the famous Krishna on the bench, is second to none. Apart from this, the career of veteran Ishant Sharma is also going on. Young bowlers like Navdeep Saini, Umran Malik, Arshdeep Singh are also engaged in proving their claim. All these players are the invention of IPL who are continuously strengthening the Indian pace battery.
Read : Why did England's four-wicket-taker Mohammad Siraj finally say – you have to be patient!
This happened 13 times in 84 years and 15 times in last 5 years.
How fast the graph of Indian fast bowling has grown can be gauged from this figure; The Indian cricket team has done this 28 times from 1932 to 2022 when all 10 wickets of the opposing team have been taken by fast bowlers. If we break it, then in the era of legends like Kapil Dev, Roger Binny, Madan Lal, Venkatesh Prasad, Javagal Srinath, Zaheer Khan, this happened only 13 times from 1932 to 2016. Whereas from 2017 to 2022, Indian fast bowlers have taken all 10 wickets of the opposition team 15 times in Test matches.
Mohammed Shami and Jasprit Bumrah gave strength
After star bowlers like Zaheer Khan and Ashish Nehra, the challenge before the Indian team was to prepare a better pace attack. Ishant Sharma was left alone and Umesh Yadav was not able to perform steady with him. That's when Mohammed Shami entered Indian cricket in 2013 and Jasprit Bumrah in 2016. Since then, gradually this pair became trouble for the opposing batsmen. Youth like Siraj came and strengthened it further. The result today is that the Indian bowling attack has the potential to stun the best of the best teams in Test cricket.