Manisha Kalyan, Sunil Chhetri nominated for AIFF Footballers of the Year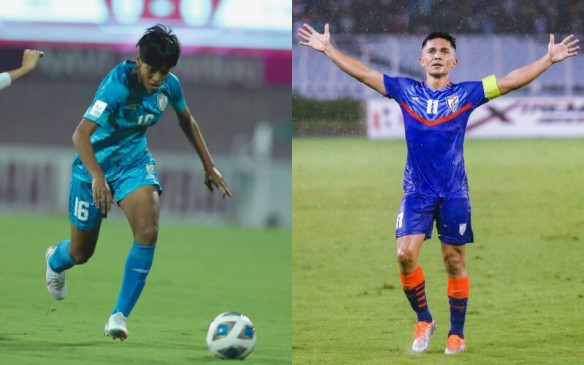 Digital Desk, New Delhi. Manisha Kalyan and Sunil Chhetri have been named as the AIFF Women's and Men's Footballer of the Year 2021-22. The two legends have been nominated by their respective national team coaches Thomas Dennerby and Igor Stimac. While Manisha won the Women Emerging Footballer of the Year for the previous season, Sunil has won the award 7 times. Won last time in 2018-19.
Thomas Dennerby, head coach of the women's national team, said, "Manisha has done exceptionally well for the national team and her club. He has scored a number of goals, and assists regularly. She has the potential to play in the big leagues in the future.
Manisha recently signed for Cypriot champion Apollon Ladies. The club has made it to the qualifying round of the 2022–23 UEFA Women's Champions League. Speaking about Sunil, men's national team head coach Igor Stimac said, "Sunil was our highest goal-scorer, scoring 5 goals, and was also the Player of the Tournament in the SAIF Cup. Scored 3-4 goals in the third round of the AFC Asian Cup Qualifiers in Kolkata.
In addition, Martina Thokchom was named as the 2021-22 Women's Emerging Footballer of the Year, and Vikram Pratap Singh was named as the 2021-22 Men's Emerging Footballer of the Year by two national team coaches. Dennerby said, Martina is only 17 years old. He is a very strategic midfielder with an exceptional vision of the game.
She further added, "She is already a member of the senior team and has been a regular since then. He also made a stellar performance for the Indian Arrows in the IWL.
Source: IANS
Disclaimer: This is a news published directly from IANS News Feed. With this, the team of bhaskarhindi.com has not done any editing of any kind. In such a situation, any responsibility regarding the related news will be of the news agency itself.