Somebody is playing carrom and some one is cooking food in Sri Lanka's PM residence, videos of protesters surfaced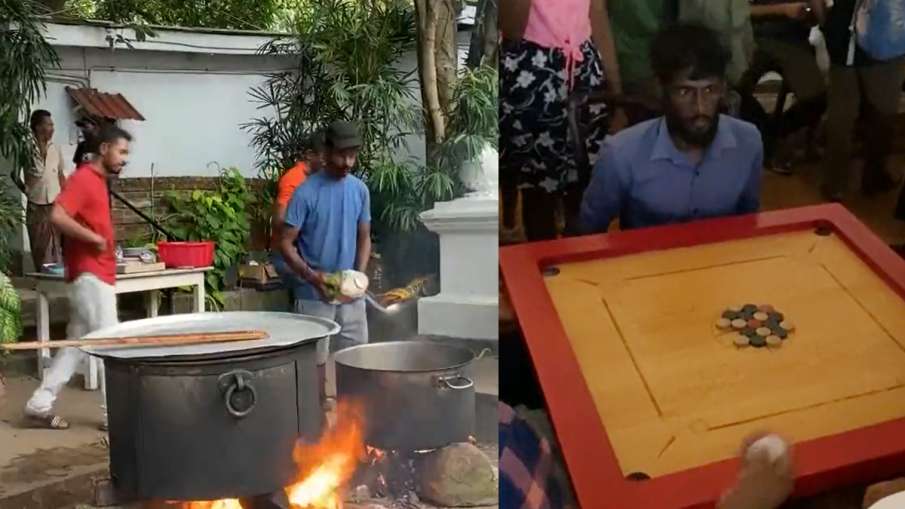 Highlights
The situation is deteriorating in Sri Lanka, which is facing economic crisis.
Protesters occupied President and PM residence
President Rajapaksa accused of fleeing the country amid the crisis
Sri Lanka Crisis: Protesters stormed the President's official residence in the heavily guarded Fort area of ​​central Colombo on Saturday, demanding the resignation of President Rajapaksa in Sri Lanka. A group of agitated protesters barged into Wickremesinghe's residence at Cambridge Place on Saturday. Today pictures are coming out from the Prime Minister's residence in which the protesters are seen cooking food inside the PM's residence.
Carrom playing at PM's residence
In another video, protesters are seen playing carrom inside the 'Temple Tree', the official residence of the Sri Lankan PM, while some are lying comfortably and roaming around the premises. Let us tell you that a protesting mob, enraged by the economic crisis, stormed the residence of Sri Lankan Prime Minister Wickremesinghe yesterday.
Regarding the preparation of food in the Prime Minister's residence, a protester said that we have started cooking, we are inside the PM's house. We have fought for the resignation of PM Wickremesinghe and President Rajapaksa. We will leave the campus only when they resign.
Sri Lankan President Rajapaksa flees the country
Anti-government protests continue in Sri Lanka. On Saturday, protesters occupied the residences of President Gotabaya Rajapaksa and Prime Minister Ronil Wickremesinghe. There is no information about where the President is at present amid the turmoil in the country. Sri Lanka is facing an unprecedented economic upheaval. The country with a population of 22 million people is passing through the worst phase in seven decades. Sri Lanka is short of foreign exchange, leaving the country unable to pay for essential imports of fuel and other essential commodities. In the midst of these conditions, the public is on the streets. Sri Lankan parliament speaker Mahinda Yapa Abhayawardene said on Saturday night that President Gotabaya Rajapaksa would resign on July 13.
India stands with the people of Sri Lanka
In its first reaction to the rapid developments in Colombo, India on Sunday said it stands with the people of Sri Lanka as they seek to realize their aspirations for prosperity and progress through democratic methods, values ​​and the constitutional path. Ministry of External Affairs (MEA) spokesperson Arindam Bagchi said India is closely monitoring developments in Sri Lanka and is aware of the many challenges that the country and its people are facing.