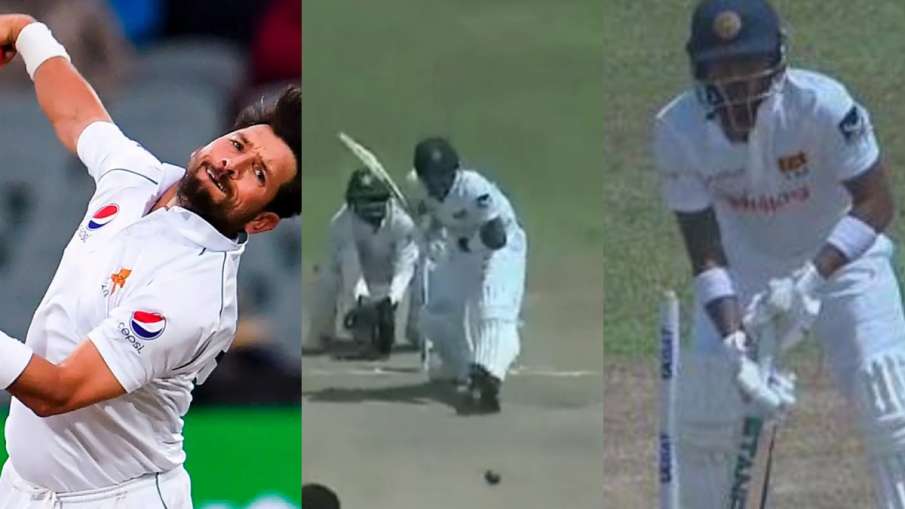 Highlights
Yasir is joint second fastest bowler to take 100 wickets in Test cricket
Yasir Shah took 5 wickets in the ongoing Galle Test against Sri Lanka
In Test cricket, Yasir recorded 235 wickets in just 46 matches.
Ball of the Century Video: Pakistan leg-spinner Yasir Shah bowled a wonderful turning ball in the first test match of the two-match series against Sri Lanka in Galle. His ball was shared on Twitter by ICC and Sri Lanka Cricket, calling it Ball of the Century. Yasir reminded the late leg-spinner Shane Warne with his brilliant ball. Shane Warne bowled a ball that is still called the Ball of the Century on 4 June 1993 to Mike Gatting of England. After 29 years, Yasir brought back those memories of Warne.
Actually this ball was seen during the 56th over of Sri Lanka's second innings. On the very first ball of this over, Yasir Shah sent set batsman Kusal Mendis back to the pavilion for 76 runs. Mendis was blown away in front of this ball of Yasir and he could not understand where the ball fell and from where his off-stump was blown. He was stunned. Its video is also becoming fiercely viral on social media and this ball of Yasir is being compared with Shane Warne's Ball of the Century.
You can clearly see in the video how Yasir Shah's ball pitches over the leg-stump and to some extent it is outside the leg-stump. But suddenly turning, the ball starts going on the off-stump of Kusal Mendis. A similar ball was bowled by Shane Warne to Gatting. You can also see that Warne pitched the ball outside the leg-stump and turned and went on ripping off the off-stump of the bowler getting off. There is a lot of similarity between the two balls.
Yasir Shah's ball
Shane Warne's Ball of the Century
Yasir took 5 wickets in Galle Test
Yasir Shah is currently the leading leg spinner of Pakistan. He has 235 wickets in his name in 46 Test matches. In this Test match against Sri Lanka in Galle, he also took two wickets in the first innings and three wickets in the second innings. He thus took a total of 5 wickets in this match. Yasir is jointly the second fastest bowler in the world to take 100 wickets in Test cricket. He had completed a century of Test wickets in just 17 matches.