Virat Kohli vs Jonny Bairstow: Jonny Bairstow said this big thing about Virat Kohli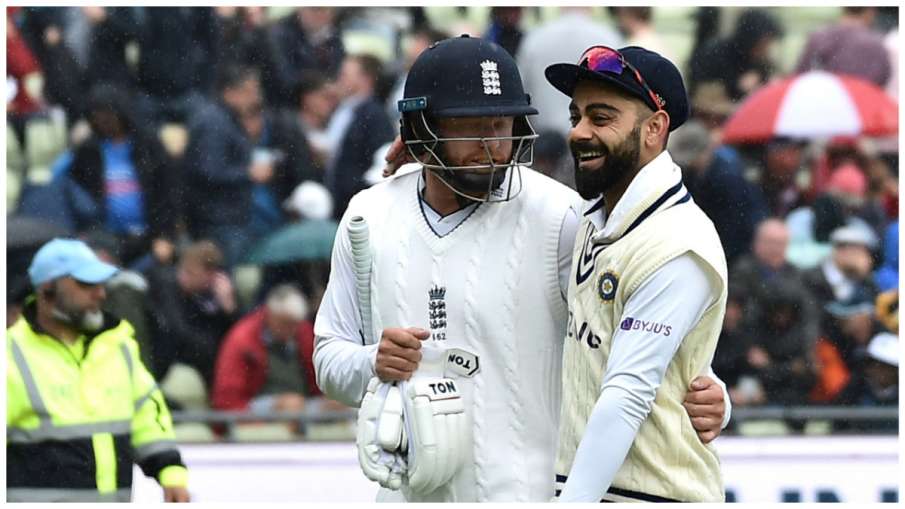 Highlights
There was a conversation in the match between Virat Kohli and Jonny Bairstow
After the match, Jonny Bairstow spoke on Virat Kohli
The fifth test between India and England is going on at Edgbaston.
Virat Kohli vs Jonny Bairstow: There is a match between Team India and England and there should not be such moments in it, when the players are seen talking to each other, it does not happen. The Test is being played between India and England in Edgbaston, something similar was found to be seen in that too. This time there was some tussle between former India captain Virat Kohli and Jonny Bairstow of England. This happened when Jonny Bairstow had come out to bat in the first innings and was struggling to score runs. During this, Virat Kohli said something to Jonny Bairstow. After this, both the players were seen talking to each other for a few seconds. It seemed that Virat Kohli was telling Jonny Bairstow to bat quietly. However, after this Jonny Bairstow started appearing in his touch and was seen doing the same batting as he was doing in the previous series, this time also. First he completed his half-century and after that he also completed a century. This is his third consecutive century in Tests.
Jonny Bairstow said, there is nothing between the two
After the end of the third day of the match, when Jonny Bairstow was talked about this and questioned about Virat Kohli, Jonny Bairstow kept his point in simple language. Jonny Bairstow said that Virat Kohli and other Indian players are very emotional for their country. There is literally nothing between me and Virat Kohli, only two very competitive people on the field doing what they love. That is, whatever happened on the field was not a serious matter. The special thing is that what happened between Virat Kohli and Jonny Bairstow happened when Bairstow had come out to bat, but after that nothing happened in both of them, even when Jonny Bairstow scored a century. When completed, Virat Kohli also praised him by clapping.
Tweeted in Virender Sehwag and Jimmy Neesham
Why do opposing teams keep making Jonny Bairstow angry lol, he gets 10x better.

Give him a gift basket each morning, let him know you're having his car valeted while he's batting. Anything to keep him happy 😂

— Jimmy Neesham (@JimmyNeesh) July 3, 2022
Jonny Bairstow's Strike Rate before Kohli's Sledging -: 21
Post Sledging – 150

Pujara ki tarah khel rahe thhey, Kohli ne Pant banwa diya bewajah sledge karke #IndvsEng

— Virender Sehwag (@virendersehwag) July 3, 2022
However, on social media, there was a lot of criticism of Virat Kohli about why Virat Kohli teased Jonny Bairstow. Because after this incident Jonny Bairstow batted brilliantly. Former Indian team opener Virender Sehwag also made a tweet regarding the same thing. He wrote that Jonny Bairstow's strike rate before sledging – 21, after sledging – 150. Playing like Pujara, Kohli made Pant unnecessarily sled. Jimmy Neesham of New Zealand has also tweeted on this incident. He has written that why the opposition team keeps bugging Jonny Bairstow, he becomes 10 times better than this. Give them gifts every morning, tell them you've parked their car during their batting. Make them happy by doing anything. Jonny Bairstow played a brilliant innings of 106 runs in 140 balls during this period. He hit 14 fours and two sixes during his innings.