ZIM vs BAN 3rd ODI: Zimbabwe created history even after losing against Bangladesh, did this amazing after five years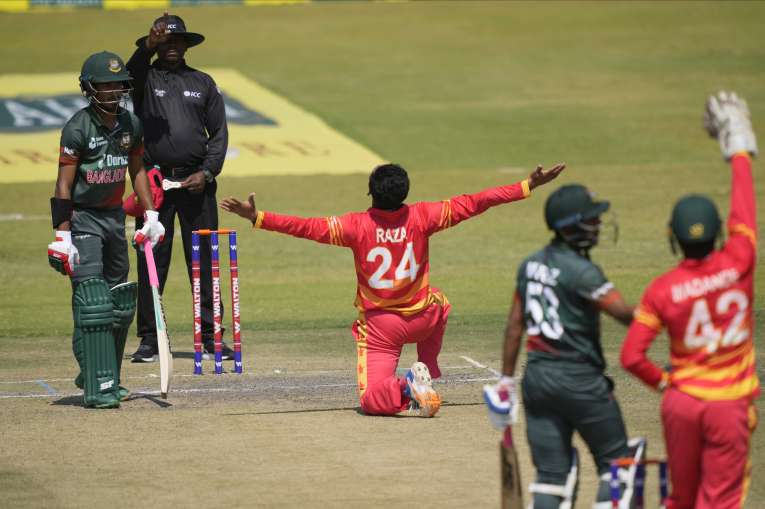 Highlights
Bangladesh beat Zimbabwe in 3rd ODI
Zimbabwe won the ODI series 2-1
Zimbabwe lost by 105 runs
ZIM vs BAN: It is said that all is well if the end is well. This phrase can act as a ointment on the wounds of Bangladesh for the time being. Bangladesh beat Zimbabwe by 105 runs in the third and final ODI match. This did not do much for the visiting team, but this victory can give them some consolation. Zimbabwe had already won the series by winning the first two matches of the three-match series.
In this match, the hosts won the toss and called Bangladesh to bat first at the Harare Cricket Ground. Aamul Haque's 76 in the top order and Afif Hossain's 85 in the middle order helped the visitors score 256 for 9. The target was not big on a batting friendly wicket but Zimbabwe's team kept falling apart from the beginning in response.
The entire team of the hosts were bundled out for 151 runs in 32.2 overs i.e. with 106 balls to spare. Zimbabwe, after losing one wicket each in the first and second overs, lost two wickets in the sixth over, taking the team's score to 18 for four. The hosts still lost wickets at regular intervals, and the score was reduced to 83 for 9 in the 23rd over after the last two batsmen Richard Ngarwa and Victor Nyauchi put on a second best partnership of 68 runs for the final wicket. narrowed the gap. Nagarwa scored an unbeaten 34 and Nyauchi scored 26 runs. After these two, the biggest contribution to the team's score was 25 extra runs.
Under the guidance of former Zimbabwe captain Dave Houghton, the hosts managed to win the first ODI series against a major team for the first time since 2017. Earlier, the 3 T20 match series against Bangladesh was also won by Zimbabwe 2-1, which was their first series win in this format against a mainstream team.
Latest Cricket News